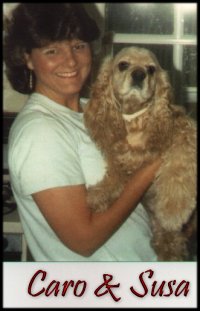 Caro's Cocker Spaniels Go into Cyberspace!
We are Kenzie and Cauley, Caro's special pets. My name is Kenzie. I'm the older dog, a pure-bred cocker spaniel. My pal Cauley is part dachshund. Susa, pictured above with our sweet mommy, came before us. She is our role model. We aspire to be as good a dog as she was.

We're not quite sure what Caro has in mind, sending us out into cyberspace. But we are brave little dogs and love a new game. We also enjoy showing off!
| | |
| --- | --- |
| Waiting patiently for mom | |
| | Kenzie and Cauley, being good while Mom's away! |
| Look closely: Kenzie jumps over Cauley. | |
| | Cauley & Kenzie, couch puppies |

Oops! Where'd that bad dog
come from?
Cauley and Kenzie,
puppies who love to clown around.
More of my favorite photos of Kenzie and Cauley and their friends.

Send a note from your canine companion to caro at chipsters dot com!