A teen-ager in the turbulent sixties, I was the family Miss Fixit. If it was broken, I could fix it. But I wouldn't go to school without Dippety-Doo, a hair gel!
---
Get a load of this nifty red and yellow outfit! I sewed the scooter skirt with my own two hands. All the girls wore them.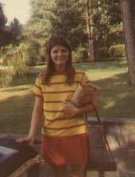 Senior prom, ready to dance the night away.